An anime adaptation produced by Xebec M2 was announced and started broadcast on the Japanese network TV Asahi on July 3, 2007. The Zombie-Loan anime series first aired on TV Asahi on July 3, 2007, airing Tuesdays at 13:40 in Japan. The anime series is currently unlicensed in America. A total of 11 episodes aired with the final episode airing on September 11, 2007. Subsequent episodes 12 and 13 were released on the seventh Region 2 DVD, but no official word for television broadcast has been made. In them, a new story arc was started but not completed. The animation uses the opening Ōkami no Nodo (オオカミのノド?, lit. "Wolf's Throat") composed by Yusuke Chiba (チバユウスケ Chiba Yūsuke?) of the group The Birthday and the ending theme Chein Ringu (チェインリング?, "Chain Ring") composed by SatoChi (SATOち Satochi?) in the group Mucc.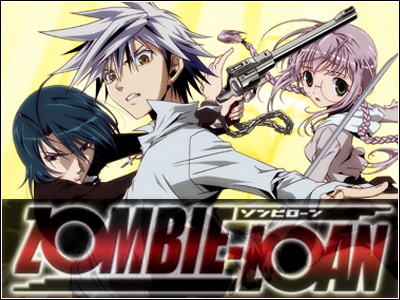 Ad blocker interference detected!
Wikia is a free-to-use site that makes money from advertising. We have a modified experience for viewers using ad blockers

Wikia is not accessible if you've made further modifications. Remove the custom ad blocker rule(s) and the page will load as expected.